Learn why businesses are choosing electronic invoicing over traditional payment methods and discover the current trends in the e-invoicing industry.
In recent years, the digitization of business processes has gained significant traction, and one area that has witnessed remarkable transformation is electronic invoicing. Electronic invoicing, also called "e-invoicing," is the process of sending electronic bills through a digital platform when goods and services are traded.

It is usually done on smart devices like mobile phones, laptops, and tablets, and it involves documents like purchase orders, debit and credit notes, and remittance vouchers that say how the payment will be made. As per the SNS insider projections E-invoicing has a projected CAGR of 19.91% between 2023 and 2030.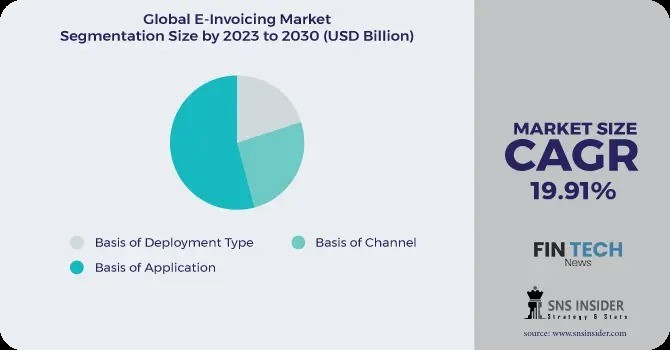 It involves the automated generation, exchange, and processing of invoices in a standardized electronic format. As organizations strive for greater efficiency, cost reduction, and compliance, the e-invoicing industry has experienced several noteworthy trends shaping invoicing processes' future.  
 
Whether you utilize cloud or on-premises solutions, e-invoicing provides numerous advantages. One of the most significant benefits is that it significantly reduces costs associated with system design, customization, implementation, training, and maintenance.
Here are some more benefits of E-invoice
Improves the accuracy and quality of invoices,
Reduces the number of late payments
Speeds up invoice processing
Makes more information available at the same time.
Keeps track of business transactions
Increased the level of transparency
The global e-invoicing market is driven by factors such as the growth of e-commerce and the increasing use of cloud-based and on-premises solutions. SNS insider has reported that the current value of the E-invoicing market is around $10.92 billion in 2022 and is expected to rise to approximately $46.68 billion by 2030.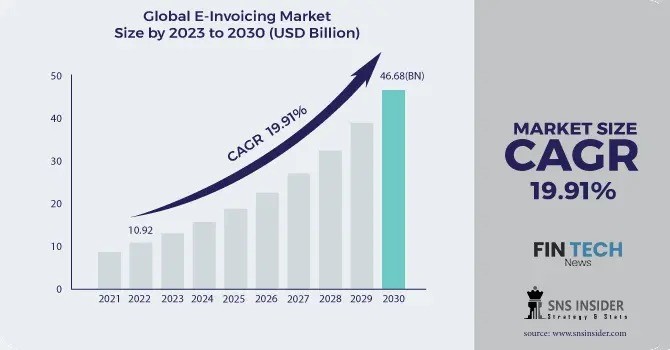 Due to the COVID-19 pandemic, a significant transition from traditional distribution methods to online shopping has increased the use of electronic invoicing systems. 
Here are some of the reasons why marketers are opting for the latest e-invoicing and a list of similar industry developments.   
1. Mandatory E-Invoicing Adoption:
E-invoicing is being mandated worldwide to simplify tax reporting and combat tax evasion. Italy, Brazil, Mexico, and India have enacted such laws. As more countries realize the benefits of e-invoicing, electronic invoicing systems will become more widespread.  
2. Interoperability and Standardization: 
Interoperability and standardization are essential for seamless communication between e-invoicing systems. Businesses are adopting UBL and Electronic Data Interchange for Administration, Commerce, and Transport (EDI) e-invoicing standards (EDIFACT). This change makes it easier to integrate software and exchange invoices.
3. Automation and Integration:
Automation drives e-invoicing. Businesses are automating invoice generation, data extraction, validation, and reconciliation with AI and RPA. E-invoicing systems are also being integrated with ERP and accounting software to streamline invoice management and improve financial visibility.  
4. Enhanced Security and Compliance: 
As invoicing processes become more digital, protecting electronic invoices is a priority. Encryption, digital signatures, and blockchain technology protect sensitive invoice data in modern e-invoicing solutions. E-invoicing providers must comply with data protection laws like the GDPR, so they take data privacy seriously.
5. Mobile and Cloud-Based Solutions:
E-invoicing solutions make mobile invoice creation and processing easy. Cloud-based platforms are popular for their scalability, accessibility, and affordability. They reduce administrative costs and promote collaboration between stakeholders.
There are several noteworthy companies in the global e-invoicing market; here are some of the best E-invoice software developing companies Araize, Basware, Cegedim, Comarch, and Nipendo. 
 
Final thoughts 
The e-invoicing industry is undergoing rapid transformation, driven by the need for efficiency, compliance, and cost reduction. The key trends reshaping the industry are mandatory adoption of e-invoicing, interoperability, automation, enhanced security, and mobile/cloud-based solutions. As businesses increasingly embrace digitalization, e-invoicing will continue to evolve, leading to streamlined processes, improved financial management, and enhanced customer experiences.
For a comprehensive analysis of the e-invoicing market, please visit SNS Insider. We are a global marketing support and inside sales company that enhances the business performance of B2B organizations through content syndication, data, quality, and lead generation solutions. Get in touch today!